FAQ's – Newborn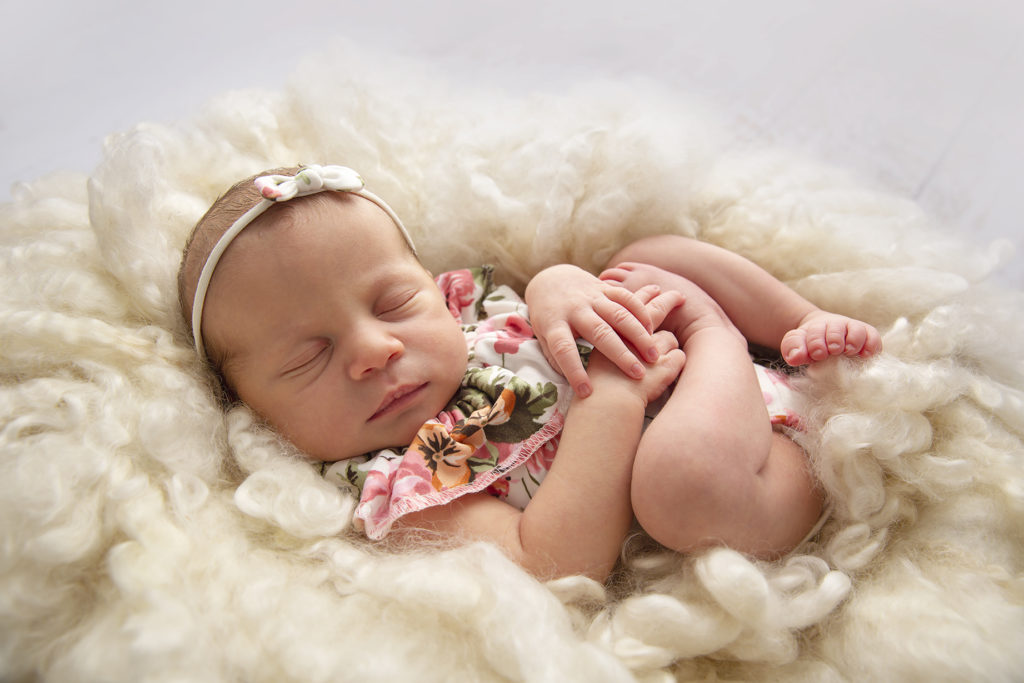 WHEN SHOULD I BOOK MY NEWBORN SESSION?
It's best to book while in your second trimester and before baby is born. Booking as early as possible secures your due date in Kerri's calendar. Her calendar can fill up quickly and she limits availability to ensure always able to accommodate if baby arrives early or late. To avoid disappointment, please do not wait until baby has arrived.
All you need to do when your baby arrives is contact Kerri preferably in first 48 hours so several dates can be offered to find one that suits you.
If you forgot to organize a booking while pregnant then don't worry, as Kerri always try her best to fit you into her diary. Older babies are always welcome.
WHEN IS THE BEST TIME FOR A NEWBORN SESSION?
Kerri prefers to photograph newborns between 6-10 days or at least in first 14 days. Babies are usually nice and sleepy, curl easily into squishy adorable poses (after all that's how they were inside) and before becoming too alert.
WHAT IF MY BABY IS OLDER THAN 2 WEEKS?
It's never too late! If your baby is between 2 – 6 weeks old you can have an "older newborn session". There is a similar flow but Kerri may not be able to achieve certain poses as older babies don't curl as easy. They might be more alert so may take a little longer to settle them and wrapping them will help to keep calm. Kerri will have a variety of props and poses to give beautiful memories of your precious one.
HOW LONG IS THE NEWBORN SESSION?
Kerri allows up to 4 hours so there is plenty of time for feeding, settle/cuddles, nappy changes and different poses. Mum gets to relax on the sofa during the session and if required Dad becomes the helper/spotter – this lets him feel involved and important ☺
WHAT SHOULD BABY WEAR? DO I NEED TO BRING OUTFITS OR PROPS?
Kerri supplies all props, outfits, backdrops, wraps, headbands, bonnets and everything you see in her images and all are available for your session. I have to say Kerri has a BIG prop collection – just ask her husband (lol). Kerri will have all props styled and ready to go when you arrived for your session.
If you have something special and meaningful to you are welcome to bring – please just let Kerri know before your session!
HOW SHOULD I PREPARE FOR MY NEWBORN SESSION?
Sleepy babies are what Kerri aims for to give a good variety of poses. This is achieved with a "milk-drunk" baby which is a baby with a full tummy! If baby is due for a feed before you arrive please give and you can top up when you arrive, otherwise arrive 15 minutes early so Kerri can undress your baby before feeding so not to disturb them after. Baby may feed a little more through the session so please don't be concerned. Kerri will prep you more before your session.
WHAT TO EXPECT
The studio will be warm for babies comfort and Kerri will have white noise running to help calm and soothe baby. Keep this in mind for your clothing as you may want to dress in layers.
Please don't worry as babies pee and poop whenever they want and on everything! Everything is washed after each session and there are plenty of whites and nappies on hand.
Kerri likes to be able to use a dummy if baby is unsettled, so please bring if you have one. The short time it may be used should not make any habit-forming behaviour for your baby. Kerri does have some on hand if required.
If bottle-feeding – please bring extra formula and bottles!! Some babies may require extra feeding during their session.
Also bring some food/snacks for yourself, after all Mum needs to keep nourished. Kerri has a small fridge stocked with drinks and water and you're welcome to put food in. There is also tea/coffee available and some snacks on hand.
ARE YOU IMMUNIZED AND INSURED?
Absolutely!! Kerri is up-to-date with vaccinations as your family's health and safety is her number one priority.
Kerri is also trained in newborn posing (along with nursing/midwife background)
Kerri is a Certified Newborn Photographer – The Academy of Newborn Photography
She has also attended many in-person training & online workshops over the years with world-renowned photographers – see About Me
WHEN DO I SEE PHOTOS FROM MY SESSION?
Kerri will have you return to the studio to view your session photos 1-2 weeks after your session.  She will select the best images from your session, some will be fully edited and with a majority just soft-proofed.  At this Viewing appointment you will select your favourite images to equal your chosen Collection with the option to upgrade your package.  You will also select your favourites to print for Wall Art, Album or Desk display products. 
SOME OTHER FAQ's