FAQ's – Cake Smash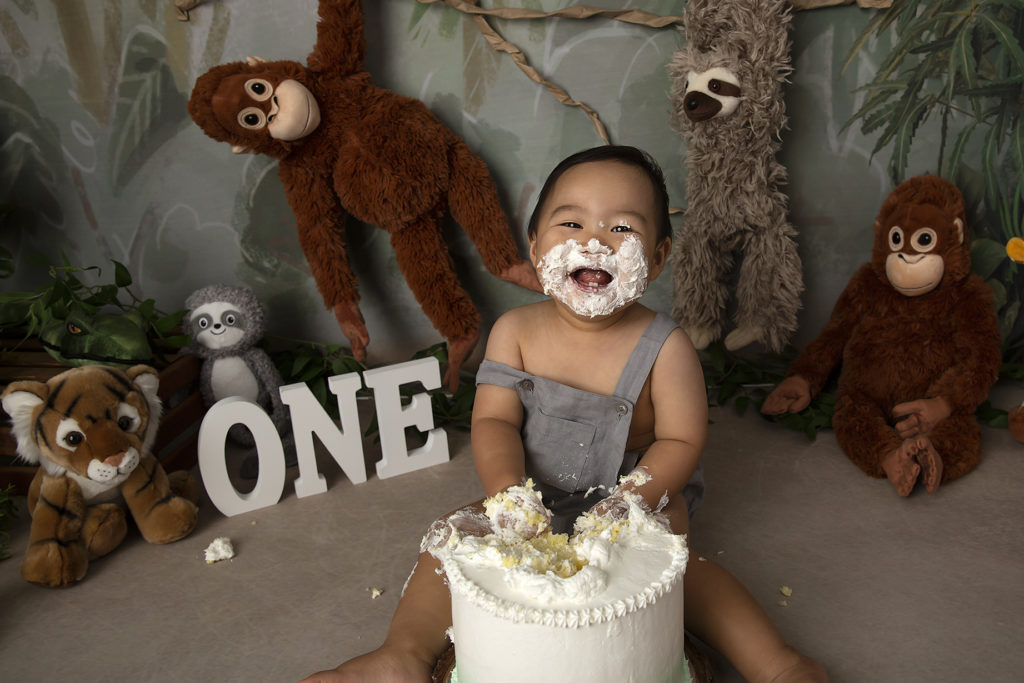 WHEN IS THE BEST TIME FOR BOOKING A CAKE SMASH SESSION?
Suggest you book anytime from 6 months before your little one's birthday to ensure there is available bookings.
You can schedule this session anytime around their birthday – if you want these images for their birthday party then Kerri recommends the session at 3-4 weeks before their birthday to allow for editing, viewing and printing back in time. Or it's all about capturing the first birthday memories you can have anytime before, on their actual birthday or after.
ABOUT THE SESSION
You will have some portrait poses when you arrive. This can be in nice outfit and then your little one can stay in the same outfit or change into one to have their messy fun. Kerri will bring the cake out, capture an image of the scene and cake, then we place your little one next to the cake and they have some messy fun (hopefully). Some children love squishing the texture of the frosting, other not so much, so the spoons come out to let them play. Once Kerri feels they are over playing, they get to have a nice warm bubble bath. This gives some more fun poses as well as lets you clean them off ready to go home.
WHAT IS INCLUDED WITH DECORATIONS
Kerri has a range of backdrops and props to set up a scene. This includes various colours of bunting, balloons, tissue flowers, and such. If there is something specific you wish for your scene, this may incur an additional fee or Kerri asks you to supply, which includes helium balloons.
Kerri will discuss if you want a plain (different) background scene for the Portrait poses or if using one scene.
WHAT TO EXPECT, WEAR OR BRING
You may wish to have an outfit for some nice Portrait First Birthday poses and either stay in this out to smash the cake. Or you then change outfits while the cake comes out which lets them have a little break before messy fun.
CAKE
You can organise your own cake – please have soft frosting and not fondant to decorate as fondant is hard for little hands to break open.
Kerri can organise a cake for you – price starting $60
If food allergies you will be required to organise your own cake!
HOW LONG IS THIS SESSION?
Little ones have a short attention span so this session is aimed to be around 45 minutes. Kerri will gauge when she feels they have had enough cake smashing, before bringing out the bath.
CAN FAMILY JOIN IN THIS SESSION?
Is session is all about your little reaching their First Birthday milestone and hence only includes your child.  If you are wanting family photos we can arrange another time for a Family Portrait Session
WHEN DO I SEE PHOTOS FROM MY SESSION?
Kerri will have you return to the studio to view your session photos 1-2 weeks after your session.  She will select the best images from your session, some will be fully edited and the majority just soft-proofed.  At this Viewing appointment you will select your favourite images to equal your chosen Collection with the option to upgrade your package.  You will also select your favourites to print for Wall Art, Album or Desk display products. 
SOME OTHER GENERAL FAQ's